Devesh Sharma
Vice President, International Desalination Association
and Managing Director Aquatech International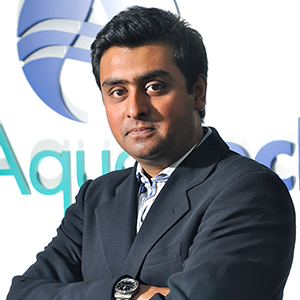 Devesh Sharma is the Managing Director of Aquatech – a global leader in water purification technology for industrial and infrastructure markets. Established in 1981, Aquatech helps some of the world's most recognized companies solve their water scarcity challenges by providing solutions in desalination, wastewater reuse and zero liquid discharge.
Devesh has been with Aquatech since 1997 and he has worked in virtually every facet of the company from commissioning to process engineer, project manager and business development manager. From 2006 to 2013, he was responsible for Aquatech's business activities in Asia. As Managing Director, Devesh has been focused on overall management of the company's operations and implementing Aquatech's vision to be the premier water solutions provider for industries worldwide.
Devesh holds a degree in Chemical Engineering and Industrial Management from Carnegie Mellon University, and an MBA from INSEAD. He is on the Board of Directors for the American Middle East Institute and was on the Board of Directors of the International Desalination Association from 2013-2015.