RK Agarwal
General Manager
Uttar Pradesh Jal Nigam (UPJN)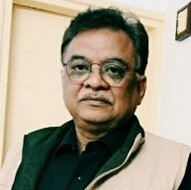 Mr. Rakesh Kumar Agarwal holds a master's in engineering (civil) from IIT Roorkee. He joined the Jal Nigam department, Uttar Pradesh in 1984 and worked at many projects in various capacity. Presently working as General Manager, Gomti Pollution Control Unit, Lucknow since 2020 and looking after various water supply and sewerage projects in Lucknow city.
1995 – 2001 - Worked at Yamuna Pollution Control Unit, Agra looked after various works for prevention of pollution of Yamuna river including design and successfully commissioning of 78 mld UASB sewage treatment Plant and various other works
2002 – 2004 - Worked at Delhi Water Supply Project, Ghaziabad supervise laying of 3200mm diameter cast-in-situ pipeline from Muradnagar to Sonia Vihar, Delhi
2005 – 2011 - Worked in the capacity of Project Manager, construction & Design Services, managed various prestigious building projects.
2011 – 2016 - Worked in the capacity of Project Manager, Ganga Jal Water Supply Project, Ghaziabad Operation & maintenance of 120 mld Ganga Jal water treatment Plant and other related works. Construction of new 200 mld Gangajal water supply project for Ghaziabad and Noida and successfully commissioned in 2015.
2017 – 2019 - Worked in the capacity of General Manager, Ganga Pollution Control Unit, Kanpur and successfully completed the Interception & Diversion of Sisamau Nala, the biggest nala in Asia.