Sembcorp Tengeh Floating Solar Farm
Overview
The 60MWp Sembcorp Tengeh Floating Solar farm is one of the largest inland floating solar PV systems in the world, spanning 122,000 solar panels across 45 hectares (equivalent to about 45 football fields).
Opened by PM Lee Hsien Loong in July 2021, the commencement of the solar farm's operations marks a significant step towards enduring energy sustainability in water treatment, making Singapore one of the few countries in the world to have a 100% green waterworks system while contributing to the national goal of quadrupling solar energy deployment by 2025.
Features
100% Green Waterworks System
The electricity generated from the solar farm will be sufficient to power Singapore's five local water treatment plants, offsetting about 7% of PUB's annual energy needs and reducing PUB's carbon footprint. This is equivalent to powering about 16,000 four-room HDB flats and reducing carbon emissions by about 32 kilotonnes annually, the same as taking 7,000 cars off the roads.
Innovative design with sustainable materials
The Sembcorp Tengeh Floating Solar Farm was carefully designed to minimise impact on the reservoir's water quality, flora and fauna. Sufficient gaps between solar panels were incorporated to improve the airflow and allow sufficient sunlight to reach aquatic life. Additional aerators were also put in place to maintain oxygen levels in the reservoir.
The project also incorporated new innovations in floating solar PV design and construction. Every component of the system was carefully designed and selected based on Singapore's climate conditions. These include double-glass PV modules instead of the single-glass variant commonly used for rooftops installations, to enhance durability in a wet and humid environment. The PV modules are supported by certified food-grade quality high density polyethylene (HDPE) floats which are UV-resistant to prevent degradation from the intense sunlight exposure.
Use of smart technologies to enhance operations
To optimise performance and reliability of operations, the system is backed by a digital monitoring platform which features safety cameras, 'live' video monitoring, dashboards and alerts that help to track environmental factors such as wind speed, solar irradiation and ambient temperature. The system also detects abnormalities that may indicate potential overheating and fire hazard for preemptive troubleshooting. Staff will be able to monitor the system remotely via a mobile application which allows maintenance teams to be swiftly deployed when required.
First in the world to deploy electroluminescence imaging technology on a utility-scale project
Partnering with Quantified Energy Labs, a technology spinoff from the National University of Singapore, this project is also the first in the world to deploy advanced drone electroluminescence imaging technology on a utility-scale PV system. Drone electroluminescence imaging captures X-ray-like signals emitted by PV modules to accurately and rapidly pinpoint defects that could be caused by a variety of factors from the manufacturing to installation stage. Identifying and replacing defective modules from the start has ensured that the PV system is running in optimal condition.
About Sembcorp Industries
Sembcorp Industries (Sembcorp) is a leading energy and urban solutions provider, driven by its purpose to do good and play its part in building a sustainable future.
Headquartered in Singapore, Sembcorp leverages its sector expertise and global track record to deliver innovative solutions that support the energy transition and sustainable development. By focusing on growing its Renewables and Integrated Urban Solutions businesses, it aims to transform its portfolio towards a greener future and be a leading provider of sustainable solutions.
Sembcorp has a balanced energy portfolio of 16.7GW, with 9.8GW1 of gross renewable energy capacity comprising solar, wind and energy storage globally*. The company also has a proven track record of transforming raw land into sustainable urban developments, with a project portfolio spanning over 12,000 hectares across Asia.
Sembcorp is listed on the main board of the Singapore Exchange. It is a constituent stock of the Straits Times Index and sustainability indices including the FTSE4Good Index and the iEdge SG ESG indices. For more information, please visit
www.sembcorp.com
.
Sustainability features of the Sembcorp Tengeh Floating Solar Farm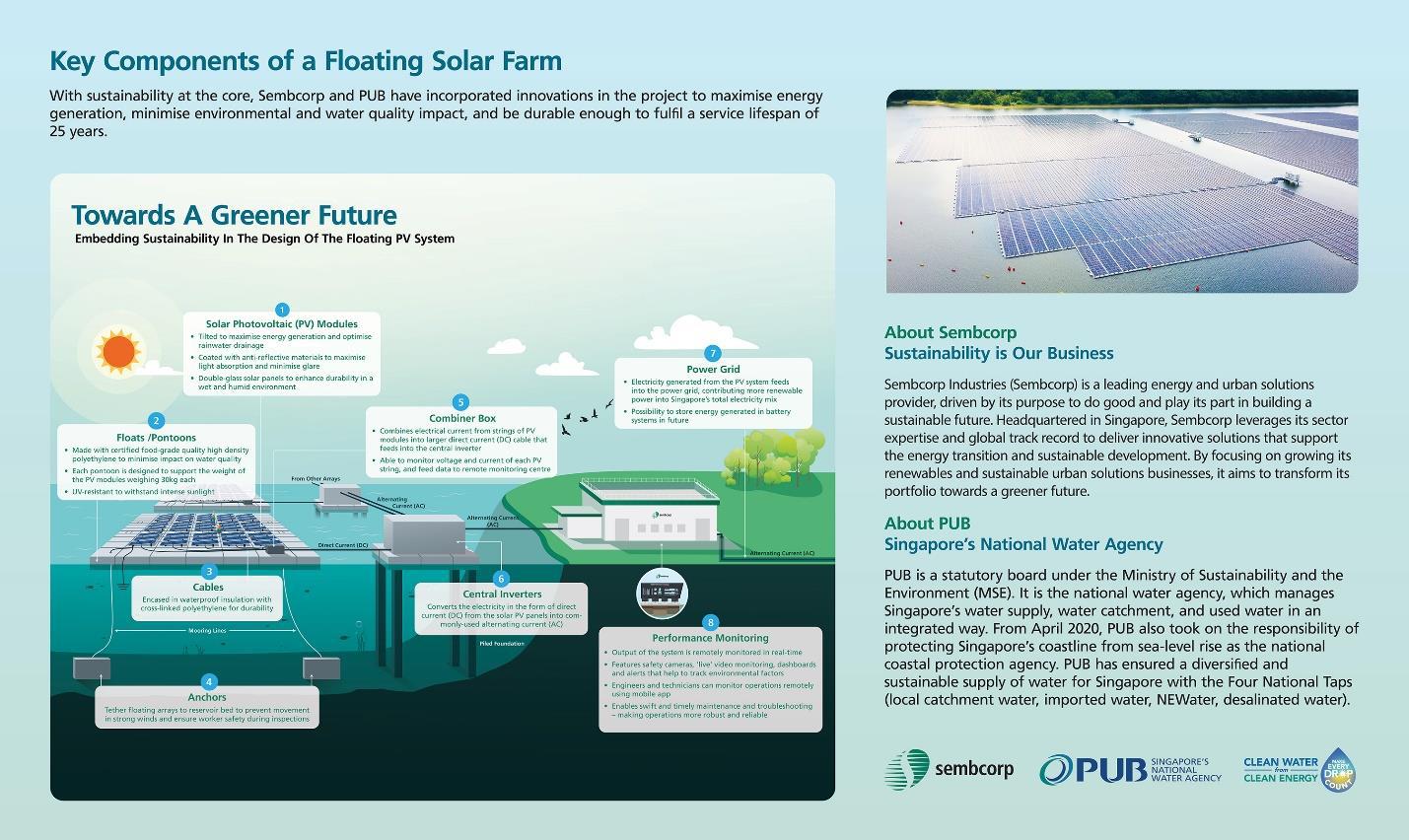 1Including acquisitions pending completion

Construction journey of the Sembcorp Tengeh Floating Solar Farm