Unearthing the mysteries of groundwater
Canadian hydrogeologist John Anthony Cherry credits his stellar career in groundwater research, protection and management to a series of "fortuituous incidents". This year's Lee Kuan Yew Water Prize laureate shares his journey with Eco-Business.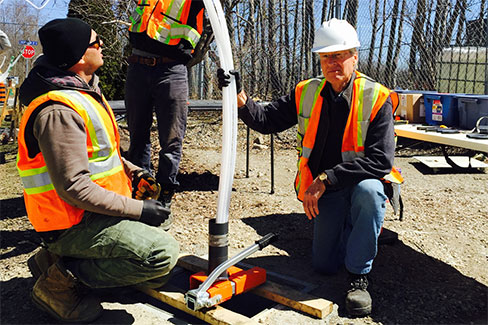 Groundwater scientist and professor John Anthony Cherry (right), winner of the 2016 Lee Kuan Yew Water Prize, out in the field. Image: Professor John Anthony Cherry
fIt was 1967. Professor John Anthony Cherry had just joined the University of Manitoba in Winnipeg, Canada, as the country's first groundwater professor when he was accosted by a young woman - the only female in the entire engineering department.
The American student, Barbara Lund, explained that - after spending a summer as an assistant at a nuclear facility outside Winnipeg - she suspected its radioactive waste-burial pits were leaking and contaminating the groundwater.
Groundwater makes up 95 per cent of the planet's usable water and more than half of the global population depend on it for their livelihood. This water can be found in the spaces between soil particles and fractured rock underground.
Prof Cherry told her it was not his area of research: he was going to specialise in the natural chemistry of groundwater, not its contamination. But Lund insisted he was "ethically obligated to look at it".
"That completely changed the direction of my career," the world-renowned hydrogeologist recalls in a recent interview with Eco-Business.
Back then, the science on contaminant hydrogeology - the study of how moving groundwater transports dissolved contaminants - was in its infancy.
As there was no established approach for the evaluation of the nuclear waste burial site then, Prof Cherry used methods that were available to him - geologic test drilling, tracer-injection experiments, and mathematical simulations of the groundwater flow pattern.
Through collaborative efforts, he eventually developed new field measurement approaches as well as methods combining drilling and subsurface instrumentation with conceptual modelling, revolutionising groundwater research.
Prof Cherry lost touch with Lund after she left the university but he has never forgotten the key role she played in his career. "Thanks to this young woman, I got into the field before it became known as an important area. So I was well ahead of the game."
His vision and dedication eventually led him down a path that would win him the prestigious Lee Kuan Yew Water Prize in 2016 for his ground-breaking work in groundwater research.
Prof Cherry says that this journey "has been a series of fortuitous events", recounting how he might not even have entered the groundwater field had he skipped class one freezing winter morning in 1961.
The geological engineering undergraduate at Canada's University of Saskatchewan made it to the guest lecture by the province's first groundwater scientist who was "all enthusiastic" and dangled a job opening.
Prof Cherry applied and got the job as an assistant with a summer research group to look for groundwater in the countryside.
With a chuckle, he says: "Later, I found out I was only person who applied because everybody else, I guess, didn't think it was important. They thought that oil or minerals were important, but not groundwater."
His generation was born after the severe drought that destituted the province of Saskatchewan in the 1930s, and it had passed by the time Prof Cherry started playing ice hockey at the age of five.
"But that was ingrained in my parents' thinking. They became documentary filmmakers, making films about water, about Saskatchewan, about hardship, and so I think that put it into my mind that water scarcity was important," he says.
A real-world laboratory
Four years into his research on groundwater contamination, Prof Cherry joined the University of Waterloo in Ontario, Canada.
There, he led a group of researchers in setting up the Borden Groundwater Field Research Facility in 1978 on a landfill located within a military base to facilitate long-term, interdisciplinary research.
This provided researchers with the opportunity to take their investigations out of the laboratory and into the field for greater realism.
The field research at Borden demonstrated the behaviour of contaminants and the remediation process in a way that non-scientists and policy-makers could understand and accept.
"We hardly knew anything about the broad range of contaminants that were in the ground. We were just seeing the tip of the iceberg," Prof Cherry says.
"Very fortunately, at that time in Canada, the government strongly supported young researchers. I was almost never limited by money - that's very rare; now, young researchers are almost always limited by money," he notes.
One of the most significant findings by Prof Cherry and his collaborators is the proof that the movement of natural chemical constituents and contaminants in many aquitards - low-permeability, clay-rich zones within the earth that restrict groundwater flow - is diffusion-controlled rather than flow-controlled.
Therefore, such aquitards contain groundwater of geologic age that is thousands or even millions of years old.
This then formed the basis for a set of benchmark criteria for selecting sites for safely disposing solid, hazardous industrial and nuclear waste, and was subsequently incorporated into regulatory frameworks all around the world.
But what really put him on the world map as an expert was the 1979 textbook, "Groundwater", which he co-authored with Dr R. Allan Freeze, a professor at the University of British Columbia in Vancouver.
The two had separately started writing groundwater textbooks as the existing ones were outdated. After a chance meeting at a hydrogeology event, they decided to combine their different areas of expertise to produce a more comprehensive one.
Textbook fame and ground-breaking discoveries
Prof Cherry says: "Much to our amazement, it became the global groundwater book. And to this day, when I travel, people ask me to sign the book."
Critics credit the book's success to its philosophical-scientific framework which integrates the physics, chemistry and microbiology - the study of microscopic organisms like viruses and bacteria - of groundwater. This helped readers see how the "pieces are connected" and get a more holistic understanding of the complicated subject.
By the 1980s, Prof Cherry's focus turned to industrial site contamination of groundwater.
In 1987, he founded the University Consortium for Field-Focused Groundwater Contamination Research, giving graduate students the chance to conduct research on contaminated industrial sites.
The challenge is to push forward with what we believe at the moment to be true, but at the same time, have enough humility to accept that we are likely to not be totally correct.
There, he and his colleagues discovered the unusual behaviour of dense non-aqueous phase liquids (DNAPLs), a class of common industrial contaminants used in many industries such as dry cleaning and vehicle repair.
This resulted in a paradigm shift in groundwater pollution control measures and new groundwater remediation guidelines in the 1990s in the United States and other countries.
Despite having officially retired from the University of Waterloo nearly a decade ago, the 74-year-old- who still plays ice hockey once a week- conducts research and heads the Consortium, which currently comprises eight universities and a network of international researchers.
"I've failed retirement," Prof Cherry jokes before noting that he can now pursue interests he had previously not been able to.
One project involves the prototyping of a portable drill for extracting safe drinking water from bedrock for isolated communities in mountainous regions of developing countries.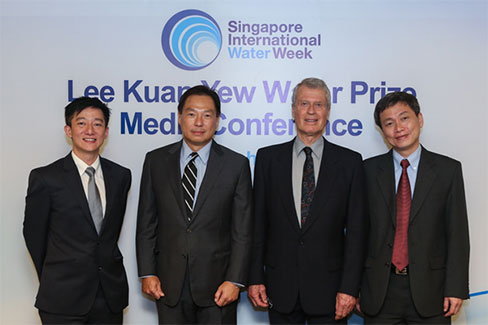 From left: Bernard Tan, managing director of Singapore International Water Week; Ng Joo Hee, chief executive of PUB; Prof John Anthony Cherry, Lee Kuan Yew Prize 2016 Laureate; and Harry Seah, chief engineering and technology officer of PUB. Image: Singapore International Water Week
Groundwater advocacy
In recent years, Prof Cherry has been a strong advocate for the urgent need to monitor and research the effects of hydraulic fracking for shale gas on groundwater resources.
Hydraulic fracturing, or 'fracking', involves drilling and injecting fluid at high pressure into the ground to fracture shale rocks and release the natural gas inside. While fracking has been a boon for countries like America, the methane gas and toxic chemicals that leach out during the process contaminate groundwater, causing environmental, safety and health hazards.
Prof Cherry has urged governments to devote more of their budget to this issue, noting that unlike sewage treatment, groundwater monitoring is not as politically-popular as its benefits appear only over the long term.
"As an academic, it's my duty to do the public pushing as much as I can because my colleagues in government can't," he adds.
His raised profile from being awarded the Lee Kuan Yew Water Prize would benefit his advocacy for better groundwater protection, Prof Cherry says.
The Prize, named after Singapore's first prime minister who played a key role in formulating its water policies, is the highlight of the biennial Singapore International Water Week - a conference that gathers stakeholders in the global water industry.
It recognises outstanding contributions towards solving global water problems by either applying innovative technologies or implementing policies and programmes that benefit humanity.
Prof Cherry, who was selected from 98 nominees for the Prize, says winning awards usually makes him "feel bad" as younger scientists need the recognition more than he does.
But he says: "This one makes me feel good because it focuses attention on groundwater, which is very rare. It's a recognition of hydrogeology as being relevant."
Prof Cherry plans to use the S$300,000 prize money to update the 36-year-old "Groundwater" textbook, translating it into different languages and putting it online.
In this way, the "Wiki book" can be accessed globally and people can contribute comments and feedback that can be incorporated annually.
Looking back on his career, Prof Cherry admits being wrong about certain ideas and is "more than pleased" when his students point this out and "argue their case well", leading to important advances in groundwater research.
He says: "I believe that the key to my success has been my ability to cooperate, collaborate and listen to new ideas proposed by others. The challenge is to push forward with what we believe at the moment to be true, but at the same time, have enough humility to accept that we are likely to not be totally correct."
Today, groundwater remains "mysterious" to most people because they do not see it and do not know where their water comes from, says Prof Cherry.
"The biggest cause of groundwater pollution and of water use not being sustainable is agriculture. For example, when we eat a hamburger, we're consuming about 1,000 litres of water," he says.
Out of concern for environmental sustainability, Prof Cherry became a vegan six years ago.
He says: "Groundwater is everywhere beneath our feet and it is used for the most important things that we take for granted, such as food, energy and the things we buy. If we're going to be sustainable, we need to be conscious of the water that's embedded within all that we do."
As the 7th Lee Kuan Yew Water Prize Laureate, Professor John Anthony Cherry will deliver the Singapore Water Lecture at the Singapore International Water Week, which will be held from 10 to 14 July 2016.