Chew Men Leong
President/Head, Urban Solutions
ST Engineering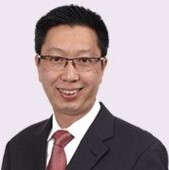 Chew Men Leong is President/Head, Urban Solutions, of ST Engineering, a global technology, defence and engineering group with a diverse portfolio of businesses across the aerospace, smart city, defence and public security segments. Appointed to this role on 1 January 2021, he leads the Group's global smart city business in the areas of mobility, utilities, infrastructure, connectivity, autonomous and sustainable solutions.
Men Leong previously served as the Group's Chief Marketing Officer where he oversees the marketing of smart city solutions and defence exports, while holding concurrent appointment as Deputy President and President (Defence Business) for its Marine arm.
Prior to ST Engineering, Men Leong held various senior management and leadership roles. He served as the Chief Executive of the Land Transport Authority and oversaw operations and transformation of Singapore's land transportation system. He also served as the Chief Executive of the Public Utilities Board and was responsible for ensuring an adequate and sustainable water supply for Singapore.
Men Leong began his career with the Singapore Armed Forces (SAF) and remained in service with the SAF for 25 years. During this time, he held various appointments including Chief of the Republic of Singapore Navy (RSN) where he operationalised key aspects of the Third Generation RSN and transforming its capabilities.
Men Leong graduated from Imperial College London with a Bachelor's degree (First Class Honours) in Electrical and Electronic Engineering. He obtained a Master of Science in Management from Stanford University, and graduated from the Advanced Management Programme at Wharton School of Business.