Convening water science, strategies and solution
Thursday, 07 June 2018 00:00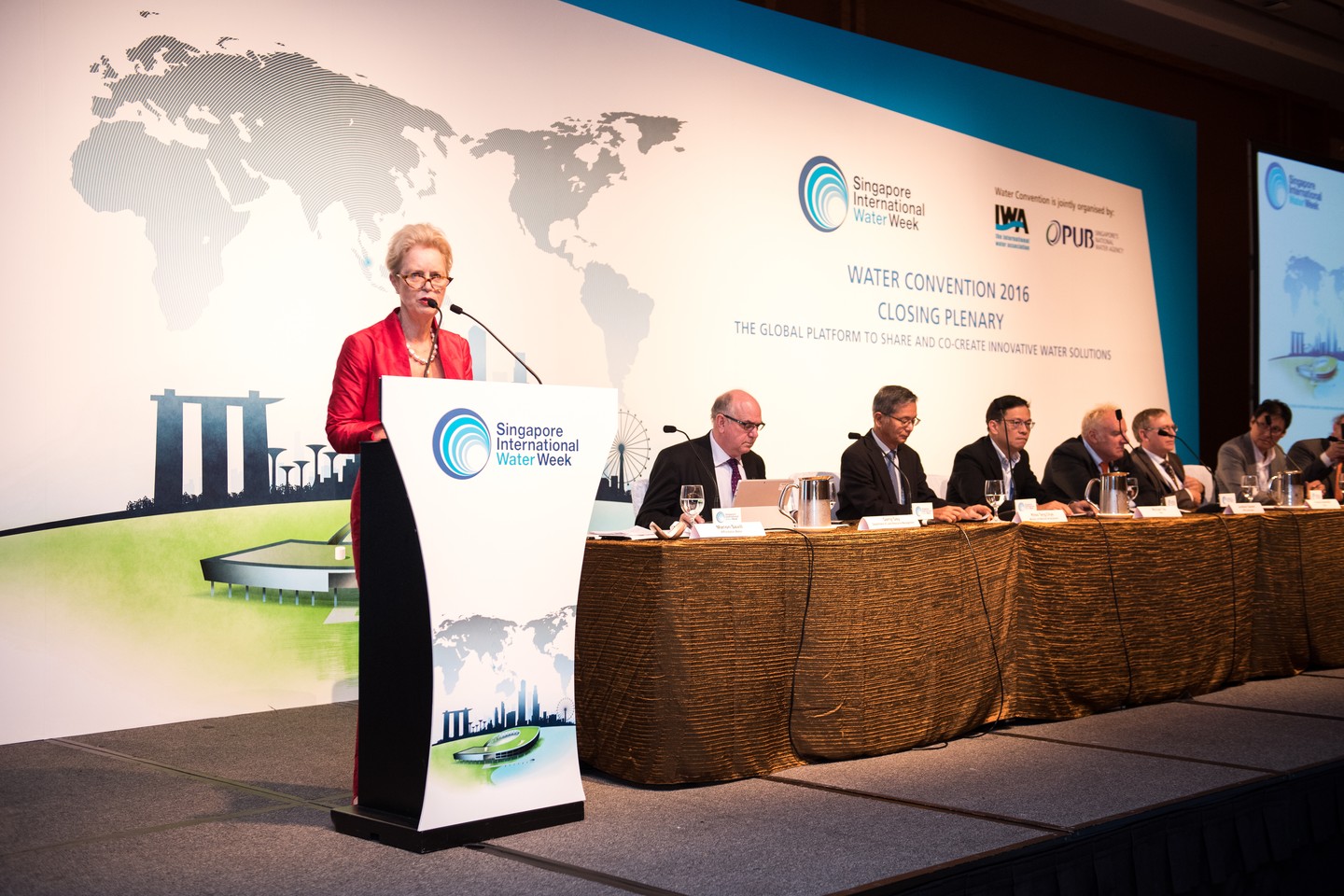 By Feng Zengkun, Eco-Business
Over the past decade, Singapore International Water Week's Water Convention has fostered cross-sector and cross-country collaborations through its workshops, plenaries, technical sessions and poster presentations. What impact has it had?
In 2016, researchers at the Technical University of Denmark and Denmark-based pump manufacturer Grundfos unveiled a new optical sensor that can count particles in water and classify them as either bacteria or sterile particles.
Their invention, which was successfully tested in a drinking water distribution system, can help utilities to monitor the different dynamics of bacteria and sterile particle levels in drinking water, and provide early warning of pollution so that the utilities can step in and prevent the contaminated water from reaching customers.
In July, the researchers will share their work with about 1,500 delegates at the Singapore International Water Week's (SIWW) Water Convention. They said: "We tested the ability of our sensor to detect four different pollution events: wastewater intrusion, rainwater runoff, resuspension of drinking water sediments and bird droppings entering the water distribution system. The results show that our sensor can help utilities by delivering early warning of the microbiological pollution of drinking water."
Convening the world's water experts
Over the past decade, the Water Convention has become a cornerstone of the SIWW. The four-day Water Convention spans workshops, plenaries, technical sessions and poster presentations on emerging and important topics such as potable reuse, intelligent water networks, wastewater treatment technologies and water-sensitive urban design.
Since the first Water Convention in 2008, the number of participating delegates, who are from academia, government, utilities, industry and international organisations, has nearly doubled from 780 to 1,500.
The Water Convention's seven editions to-date have also attracted more than 2,600 paper submissions from over 70 countries, of which about 200 have been published in the International Water Association's (IWA) Water Practice and Technology scientific journal.
Karina Gin, an associate professor at the National University of Singapore, who focuses on water quality issues, said that attending the Water Convention helped her to network with other researchers, industry representatives and government officials.
"I established collaborations with key researchers in my field in part through meeting them at the Water Convention. I've worked with scientists at the United States' Michigan State University and University of North Carolina at Chapel Hill on water quality and health-related water microbiology studies, for example," she said.
Her students and researchers have also benefited from participating in the Water Convention. "Exposure to industry is important for academics and vice versa, and they also gained valuable experience in oral presentations and poster presentations, and at the exhibition booth," she explained.
"Unlike other conferences, the Water Convention has a dedicated time slot for poster presenters to describe and 'defend' their projects to other delegates and, more importantly, judges that comprise of well-known and experienced experts in the industry, to vie for the Best Poster Award," said Harry Seah, PUB's assistant chief executive, future systems and technology, and co-chair of Water Convention Programme Committee.
Shane Trussell, president of the United States-based environmental engineering firm Trussell Technologies, added that delegates at the Water Convention can learn from Singapore's water successes.
"Singapore is a world leader in potable reuse and desalination to secure sustainable water supplies for its people, and its accomplishments are something that the world can benefit from. My firm is working on potable reuse projects from planning to design and operations, for example, and I'm hoping to bring back some of the lessons learned and experience from the successful projects in Singapore," he said.
A decade of progress
With an increasing number of areas around the world experiencing extreme water shortages or devastating floods, the role of the Water Convention has become more important than ever, noted Diane d'Arras, president of IWA, the co-organiser of the Water Convention, and event partner since its inception.
"The Water Convention is where recent scientific research results and technological developments meet up-to-date urban water quality and quantity solutions. The SIWW is a showcase for innovations in science, technology and full-scale solutions, and this is the place to look for solutions to our complex urban water management problems," she said.
While the Water Convention's four main themes – delivering water from source to tap, effective and efficient wastewater value management, water for liveability and resilience, and water quality and health – have remained mostly the same over the years, recent editions have focused more on resource recovery, energy self-sufficiency, and sensors and data analytics in water quality monitoring and water asset management, in line with global trends.
"New trends and technologies are also emerging more clearly in recent years, such as building resilient cities, leveraging big data, smart technologies and unmanned systems to boost efficiency and move towards predictive operations and maintenance, and tapping new systems like membrane aerated biofilm reactors for wastewater treatment."
To commemorate the SIWW's 10 years of excellence, its organisers have prepared an interactive word cloud at this year's event that will feature the trends, technologies and issues of the water industry as highlighted in the seven editions of the Water Convention to-date. Delegates will also be able to provide their thoughts on how the industry will evolve in the next 10 years.
Other activities include sampling sessions of a beer made from Singapore's brand of recycled water,
NEWater
. A feature wall will showcase water technologies from past winners of the Best Poster Award. The seven metre-long wall will document how the winners implemented their technologies, and the impact they had on cities and communities.
"The open sharing, lively debates and camaraderie in our collective effort of building a sustainable water world is a rare and unique trait of the Water Convention," said its co-chairs Harry Seah and Darryl Day, managing director of Australia's International Centre of Excellence in Water Resources Management. "We will continue to maintain and grow this in the next decade to come."
The 8th Singapore International Water Week will be held in conjunction with the 6th World Cities Summit and 4th CleanEnviro Summit Singapore from July 8 to 12 at the Marina Bay Sands Expo and Convention Centre. To register for the event, please click here.