Shining a light on water opportunities
Monday, 25 June 2018 15:00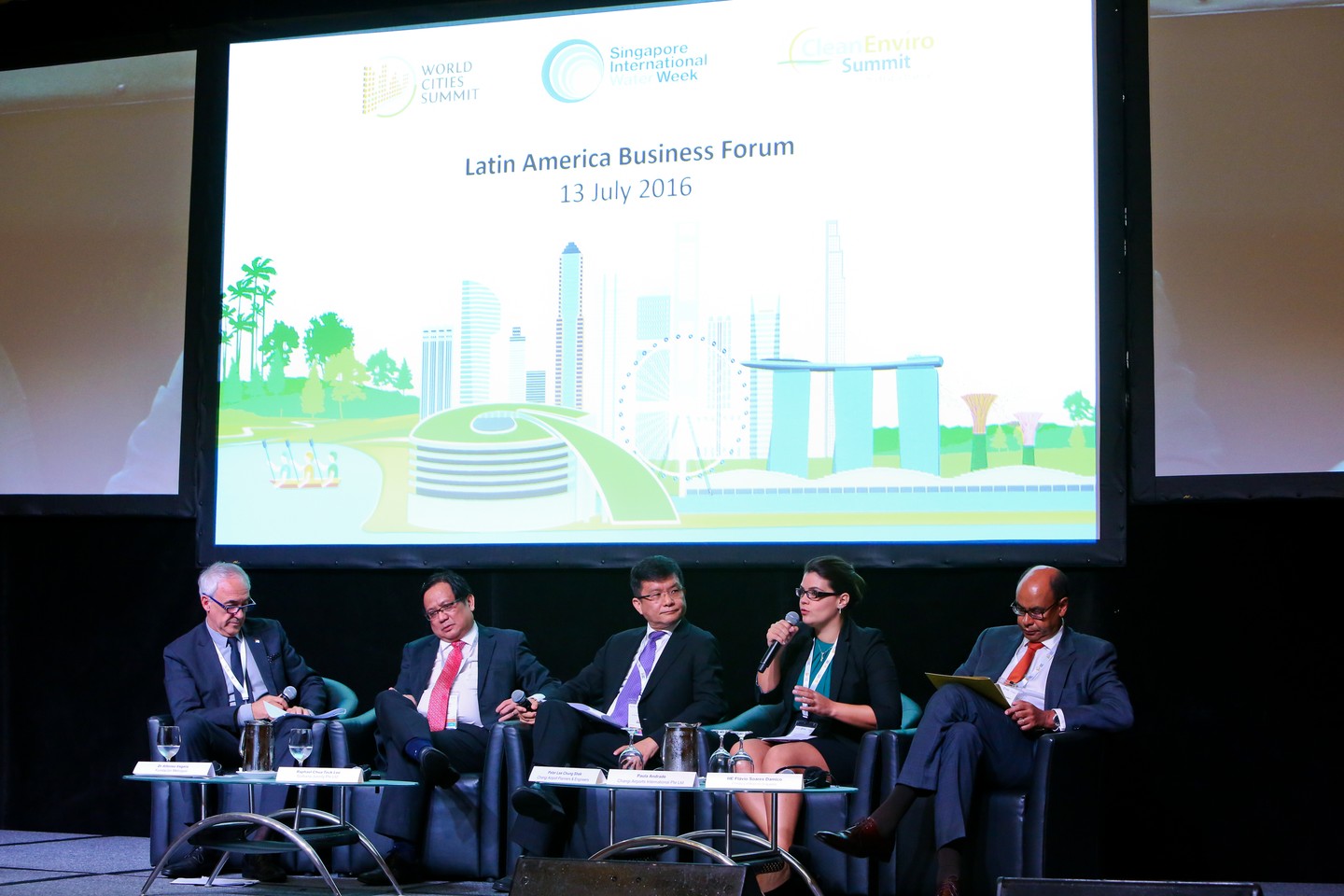 Since the first Singapore International Water Week in 2008, firms have benefited from Business Forums held to highlight water opportunities and projects in different sectors around the world. Here's a look at its impact over the years.
Water companies seeking new business opportunities should look to Latin America, where the population is expected to grow by more than 100 million people in the next three decades. By 2050, about 750 million people will live in the region, necessitating more infrastructure such as water supply networks and sewerage systems.
In fact, some of its countries, such as Brazil, already require substantial water investments. In the northern part of Brazil, less than six in 10 people have access to safe drinking water, while the country's central sewerage systems are available to only about half of its population.
These and other insights were shared by senior representatives from the region's water utilities and government agencies at the 2016 Singapore International Water Week's (SIWW) Latin America Business Forum.
Since the first SIWW in 2008, each edition of the now-biennial event has featured Business Forums aimed at helping water companies to navigate the opportunities and challenges in various water sectors, as well as in some of the world's most active regions for water projects.
In 2016, more than 1,800 people participated in seven Business Forums that were divided into regional and thematic tracks. The four regional Business Forums focused on China, India, Southeast Asia and Latin America, respectively, while the three thematic ones spanned desalination and water reuse, smart water solutions and the water-waste-energy nexus.
"Delegates who attend the Business Forums get to hear from high-level policymakers and experts, and learn more about issues in the water industry, what the market needs, challenges, and how industry and technology can provide solutions," said Miguel Angel Sanz, president of the International Desalination Association (IDA), which has co-organised several of the meetings.
A boon for businesses
"In some countries, foreign companies need a local partner and the local partner has to own at least 51 per cent of the joint venture," Foo Hee Kiang, vice president (finance) of the Singapore Water Association (SWA), gave as an example of the practical advice that speakers at the Business Forums have given to delegates.
In 2014, the SWA co-organised the Southeast Asia Business Forum. The speakers included Noupheuak Virabouth, who was a deputy director-general in the Ministry of Public Works and Transport in Laos at the time, and Nguyen Van Thien, president and general director of the Binh Duong Water Supply, Sewerage and Environment Company in Vietnam.
"Businesses looking to expand overseas will have questions about matters such as the tax on profits, whether they will have difficulties repatriating money back to their home countries, and various regulatory requirements. At the Business Forums, they can get answers straight from the horse's mouth," Foo said.
"Sometimes, some of the audience members themselves may have ventured into the countries being discussed, and can share their experiences and grouses during the question-and-answer sections. The Business Forums are also especially helpful to small and medium enterprises who may not have the resources to make multiple trips to the countries that they want to expand to," he continued.
William Yong, vice president and managing director of engineering consultancy Black & Veatch, said that the Business Forums have helped firms to network and find potential new partners and customers too.
"Through these Business Forums, we've learned more about what's happening in other markets, such as Australia and the Middle East, and shared with delegates from those regions our experiences, track record and projects. This exchange of information could lead to new opportunities not just for Black & Veatch, but also for firms interested in our work," he said.
The Business Forums' growing reputation over the years has attracted more heavyweight speakers, added Sanz. "With the inclusion of interactive panel discussions, the moderators have targeted specific issues and opened up the exchange for audience participation. This has created more value for the participants," he said.
A fresh look at water opportunities
The business presence at the SIWW itself has grown tremendously, noted Ahmed S. Al-Arifi, director general of international cooperation at Saudi Arabia's state-owned Saline Water Conversion Corporation. Between the first SIWW in 2008 and the latest one in 2016, the number of participating companies grew from 382 to 1,028.
"The SIWW has also expanded its range to include a diversity of companies, research centres, non-government organisations, exhibitors and presenters specialising in water resource management, development and investment," said Al-Arifi.
During the 2016 Business Forums, the discussions included opportunities in water reuse and brackish water desalination in the southwest of the United States, soil remediation, valley water treatment and treatment of industrial and municipal wastewater in China, and water infrastructure projects in Mexico.
This year, the SIWW's seven Business Forums are focused on Singapore, South Asia, smart water technologies, industrial water solutions, desalination and water reuse, the World Bank's priorities and upcoming projects in the water sector in Northeast, Southeast and South Asia, and Singapore's groundbreaking Tuas Water Reclamation Plant and Integrated Waste Management Facility.
"The Desalination and Water Reuse Business Forum, which the IDA is co-organising, will address how growing water scarcity has driven the development in these two water sectors, and, more specifically, the role that non-conventional water resources will play in meeting future fresh water supply needs," said Sanz.
With the SIWW marking 10 years of excellence this year, its organisers have also prepared commemorative activities and features such as an interactive word cloud that spotlights past and future water industry trends, and sampling sessions of a beer made from recycled water known as
NEWater
. A seven metre-long wall will highlight water technologies from past winners of the SIWW's Best Poster Award, and how these have benefited cities and communities.
Al-Arifi said: "Over the years, the SIWW has developed strategic global networks. I would highly recommend the event to any company that wants to explore new business opportunities, exhibit its products and meet top government officials and water leaders from around the world."
The 8th Singapore International Water Week will be held in conjunction with the 6th World Cities Summit and 4th CleanEnviro Summit Singapore from July 8 to 12 at the Marina Bay Sands Expo and Convention Centre. To register for the event, please click here.