Home
> Landing Page > Past Events >
SIWW 2018
> Programmes >
Speakers
> His Excellency Luhut Binsar Pandjaitan
His Excellency Luhut Binsar Pandjaitan
Coordinating Minister for Maritime Affairs, Republic of indonesia
Biography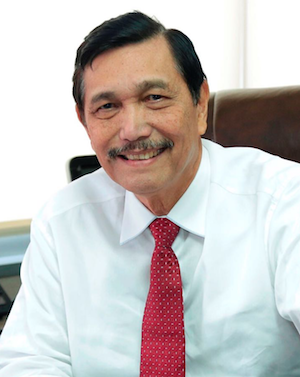 Luhut was born in September 1947 in North Sumatera, graduated as the best cadth anti-terrorist detachment. He had various military trainings both local and abroad, including in England with SAS, in West Germany with GSG-9 and also in USA with various Army Special Forces units in Fort Bragg and Fort Benning as well as in US Army John F Kennedy Special Warfare Center and School during 1970s and 80s.
He also graduated with Master Degree in Public Administration from George Washington University. He led Indonesia's Garuda contingent serving under United Nations in Port Suez, Egypt in 1974 in the earlier stage of his career and ended his military service as the Commander of the Army's Education and Training with the rank of Lieutenant General in 1999. He received the rank of Honorary General in 2000.
Luhut continued his service to the country as the Indonesian Ambassador to Singapore in 2000 before being appointed as the Minister for Industry and Trade in the cabinet under President Abdurrahman Wahid.
Luhut started his business in 2004 as one of the founder of PT Toba Sejahtera Group with activities in energy, mining, coal, oil and gas, plantation and electricity. One of the companies, PT Toba Bara Sejahtera Tbk listed in the stock exchange in 2012.
On December 31, 2014, Luhut was appointed as Presidential Chief of Staff by President Joko Widodo. The Presidential Chief of Staff is a newly created post within a cabinet in Indonesia.
Luhut was appointed as Coordinating Minister for Political, Legal, and Security Affairs on August 12, 2015. And in July 27, 2016 he was appointed as Coordinating Minister for Maritime Affairs.