Mr Richard Hoo
Deputy Chief Executive (Policy & Development), PUB, Singapore's National Water Agency
Biography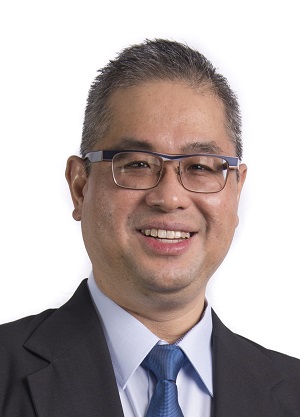 Mr Richard Hoo graduated with a Bachelor of Science (Building) (First Class Honours) from the National University of Singapore. He also holds a Master in Public Administration degree from the Harvard University. Mr Hoo completed the Advanced Management Programme at INSEAD in 2014.
Mr Hoo started his career with the Urban Redevelopment Authority (URA), Singapore's land planning agency, in 1993. Within URA, Mr Hoo has worked in diverse business groups covering land sale, property research and physical planning. From 1999 to 2002, he was seconded to the Ministry of National Development as Deputy Director (Strategic Planning) where he worked on land use and development policies. After returning to URA, Mr Hoo took up various positions in physical planning, land administration and strategic planning, including the position as Group Director (Strategic Planning) in URA.
Mr Hoo was appointed Assistant Chief Executive of URA in September 2014 and Deputy Chief Executive Officer in June 2015, overseeing the Strategic Planning, Corporate and Information Systems Groups. He guided the formulation of long-term land use planning and physical development plans and strategies for Singapore over a 50-year horizon, research and development in urban solutions, operation of Information Communications Technology Systems for the URA, development of intelligent data analytics applications in land use planning and corporate services covering organisation development, human resources, finance and investment, legal services, corporate and external communications for URA as well as good governance.
In April 2017, Mr Hoo was seconded to PUB as Deputy Chief Executive (Policy & Development) where he currently oversees the Policy & Planning, Info-technology & Digital Transformation, Enterprise Risk Management, 3P Network and Corporate departments and the Singapore Water Academy.